About
OVER 25 YEARS IN COOPER CITY – SELF-DEFENSE FOR TEENS & ADULTS
---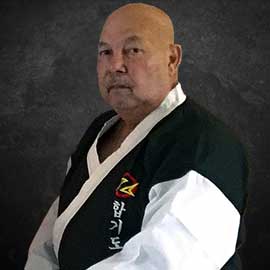 Grandmaster Daniel Baez
Grandmaster Baez has over 50 years of martial arts experience. This includes a variety of Korean and Japanese styles in which he holds several high ranks. He teaches here, along side his family, and a team of dedicated black belt instructors.
Our Hapkido Class
We teach a proven self-defense system in a traditional and safe setting, led by professional instructors. Our curriculum is designed for students to learn and progress at their own pace, while reaping the many benefits of martial arts training. No previous martial arts or self-defense experience is needed and classes are open to adults and teens ages 13 and up.
Hapkido is a Korean martial art, the official system used by the Korean secret service, and hundreds of law enforcement agencies in the world. Hapkido employs joint locking and pressure point striking, as well as kicking and punching for self-defense. Practitioners learn how to fall, how to roll, to defend against weapons, and will benefit from increased stamina, strength & flexibility.
We invite you to visit our studio and try a free class.
Our School
We are a family oriented martial arts studio teaching in the same location for 25 years. Conveniently located in the heart of Cooper City with easy access from surrounding communities in Broward. Because of the quality of our program, friendly atmosphere, and Grandmaster's reputation, students come here from Davie, Pembroke Pines, Miramar, Plantation, Weston, Hollywood and Fort Lauderdale.
We are proud members of the World Hapkido Federation.